Benefits of a Hot Wax Candle Massage
A nice massage is always a treat, and getting one from your loved one makes it even better!
Our hot wax massage candles are the perfect way to inject a bit of sensuality back in to your relationship, and get the spa feeling in the comfort of your own home!
Moreover, it is nice to know that along side the pleasure of a hot wax massage, there are also surprising natural and health benefits.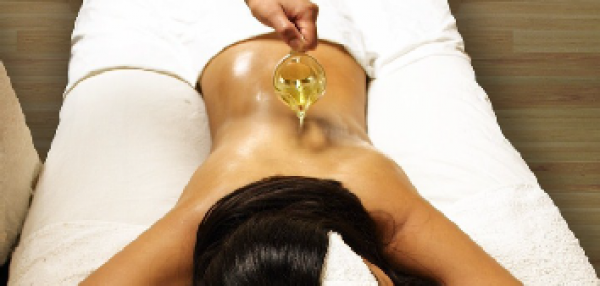 Massage candles are also very easy to use, and are a relatively new and increasingly popular way to enjoy the multiple benefits of this ancient therapy.
Simply light the candle and allow it to burn for ten minutes until a pool of wax forms, then blow out the flame and wait for a minute or so (some experienced massage therapists use the wax while the candle still burns).
The wax will be warm but not hot enough to burn the skin. Pour directly from the jar on to the area and work into the skin to create an especially tactile and sensual experience.
All the candles in our range are made from soy bean wax. Soy candles are made from a combination of essential oils, as well as the dominating oil soybean oil (of course). Essential oils are aptly named, and their qualities are endless! They burn a lot more slowly, which means they retain their scent for much longer, creating a long-lasting aroma meaning you'll be sweet-smelling after your massage! They are renowned for their engaging essence, and most beauty products source their scents from essential oils.
Not just this, but with a 50% longer burning life than regular candles, your money is well invested! They are also incredibly healthy for the epidermis, meaning your skin will be left feeling incredibly soft, nourished and rejuvenated.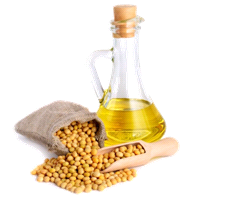 Soy bean wax is a common alternative to paraffin wax, which is what is most commonly used in candles. Paraffin candles are made from petroleum, a non-renewable source that contains carcinogenic substances. Soy bean is a natural alternative, made from naturally sourced herbal soybean oil, which supports local agriculture. Not only is soybean wax an investment in to your community, but an investment in to your planet and its future!
Soybean wax burns much cleaner than paraffin, with very little soot being produced. This is because there are no toxins in the wax. It also burns at a much lower temperature at around 37°C. This provides warmth for the body in massage without it potentially being harmful for the skin. The cleanliness of soybean makes it a much safer wax to have contact with your skin.
Soybean oil is rich in vitamin E
Vitamin E is directly associated with improving the appearance of blemishes, reducing acne scarring, protecting the skin against sunburn, and stimulating the regrowth of new skin cells to promote healing. This means that a soybean candle wax massage is not only pleasurable, but has strong benefits in improving the appearance of your skin!
Vitamin E is becoming increasing difficult to source in its fully natural form. An all natural candle is a sure way to make sure you are one of the few who take full advantage of the benefits vitamin E can have on your skin!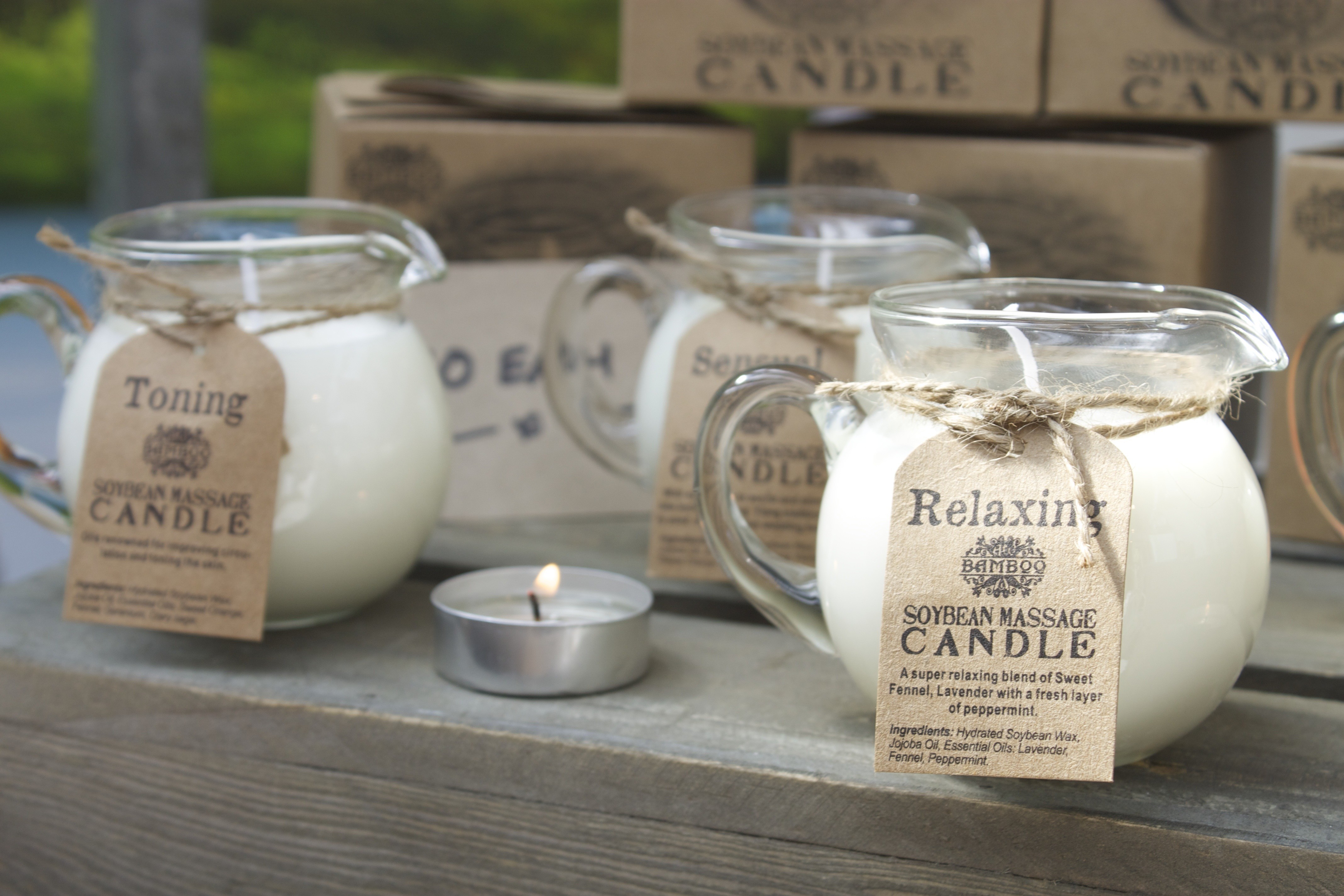 Our massage candles are of a very high quality, and use only natural ingredients; a combination of hydrated soybean wax and essential oils.
Bamboo massage candles are carefully blended using only the finest pure essential oils and natural plant waxes. The ingredients are extremely rich and moisturising so a little goes a long way, and the Jojoba oil adds a tactile and luxury feel to this warm wax massage; ideal for rubbing into those dry skin areas to replenish and nourish the skin.
So turn down the lights, set the mood with some relaxing music and enjoy a salon quality massage in your own home!
Get yours for just £12.95 here