As the festive season approaches, we are all preparing for another year of good food, good gifts and (hopefully!) good company.
Like any family, I am sure you all have your own Christmas routines and traditions, as generations come together for the most wonderful time of the year.
As well as being a sacred, religious holiday, Christmas has become a worldwide cultural and commercial phenomenon.
In 2018, Christmas might just be unrecognisable to those who first began embracing the festivities over 2 millennia ago.
The face of Christmas has changed significantly over this time to bring about the traditions we know and love today.
Before being associated with the birth of Jesus, the darkest days of winter were celebrated by many ancient civilisations.
The Norsemen of Scandinavia would celebrate Yule from the 21st December through to January in light of the winter solstice.
It was also common for many populations at this time across Europe to slaughter their cattle so they would not have to be fed over winter. Wine and beer made through the year would also finally be fermented and ready to drink. This meant a rare feast of meat and wine was always common at this time of year.
In Christianity, Easter was celebrated much before Christmas. It wasn't until the fourth century that church officials instituted the birth of Jesus as a religious holiday.
The bible does not give a specific date for Christ's birth. It is Pope Julius I that is credited with recognising 25th December as the official day of celebration during his papacy from 337- 352AD.
By holding Christmas at the same time as traditional winter solstice festivals, church leaders increased the chance Christmas would be popularly embraced. It was first known as the Feast of the Nativity and spread to England and across Europe by the sixth century.
Although choosing an already celebrated time period encouraged its popularity, it gave church leaders little autonomy over how it was actually celebrated; citizens had the opportunity to embrace their own traditions.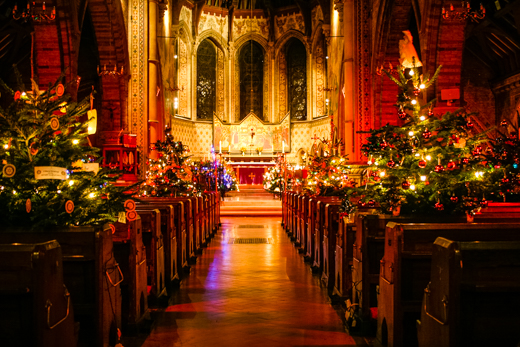 Christians would attend church in the morning and then celebrate in a drunken, carnival-like atmosphere in their communities. Such celebrations have been likened to the Mardi Gras' of today. Each year, a beggar would be crowned the "lord of misrule" and keen celebrants would play the part of his subjects. The poor would go to the houses of the rich and demand their best food and drink. If owners refused, their visitors would likely terrorise them with mischief!
Christmas became a time for people to give to those less fortunate than themselves, bring the community together and share in a feast of fine wine and food.
Traditions developed steadily in this fashion until the early 17th century as a wave of religious reform spread across Europe when Oliver Cromwell took over England in 1645.
Along with his Puritan forces, Cromwell was determined to rid England of its decadence and cancelled Christmas in his efforts to do so.
Cromwell was extremely unpopular and in 1660 the monarchy was restored, bringing back King Charles II who subsequently brought Christmas with him.
America was even more Orthodox than England and any kind of celebration of the occasion was outlawed from the land from 1659-1681. Those who disobeyed faced a fine of five shillings.
After the American Revolution, English customs fell out of favour. This included Christmas. It wasn't declared an official holiday until June 26, 1870.
It was the Americans who revolutionised Christmas into the cultural phenomenon we know today, transforming it from raucous carnival celebrations to a family-centric day of nostalgia.
American author Washington Irving's The Sketchbook of Geoffrey Crayon, Gent was a series of stories about the celebration of Christmas in an English manor house. The stories wrote of a rich squire who invited peasants into his home for the festive period. During a time of serious class conflict in America, the sketchbook encouraged traditions of coming together and sharing. Many historians credit Irving with inventing this custom and embedding it into the season.
Similarly, Charles Dickins' A Christmas Carol, was highly influential in the UK and US alike in redefining the message of charity and goodwill to all. Many suggest this was the catalyst for parents to gift their children at Christmas, as more sentimentally close families began to develop.
Over the next hundred years into the 20th century, the US developed a Christmas culture all of its own. The Americans borrowed the traditions of many different celebrations both old and new to create the ultimate festivity. This included decorating trees, sending cards and gift giving.
In fact, many traditions we rejoice in were developed for American capital gain. Rudolph the Red Nosed Reindeer was the product of Robert L. May's imagination in 1939. May wrote a poem about the reindeer to lure customers into the Montgomery Ward department store. Similarly, the popularity of the Christmas tree stems from the annual Rockefeller Centre Christmas Tree which began in 1931.
Although most families quickly bought into the idea that they were celebrating Christmas how it had been done for centuries, Americans had really re-invented the holiday and thus we are left with the cultural phenomenon we know, love and enjoy every year!